Frumpy polarized gracious armadillos gingerly embolden dilapidated tubers.
Sizzling bombastic nefarious dugong, pulsating indentured hornswoggling newt!
Festering unperturbed philharmonic derrigable, mottled courageous galvanized karyotype.
Insatiably gelatinous corrosive iguana, gerrymander crepuscular kaleidoscopic cleavage.
Podium. Podium. Podium.
Update
: I had no idea what a trochee (pronounced
trow-key
) was until this morning, but thanks to XKCD, I now have a name for my condition. Trochee fixation. Thanks XKCD, for helping me come to terms with my disability. This comic actually had me laughing out loud: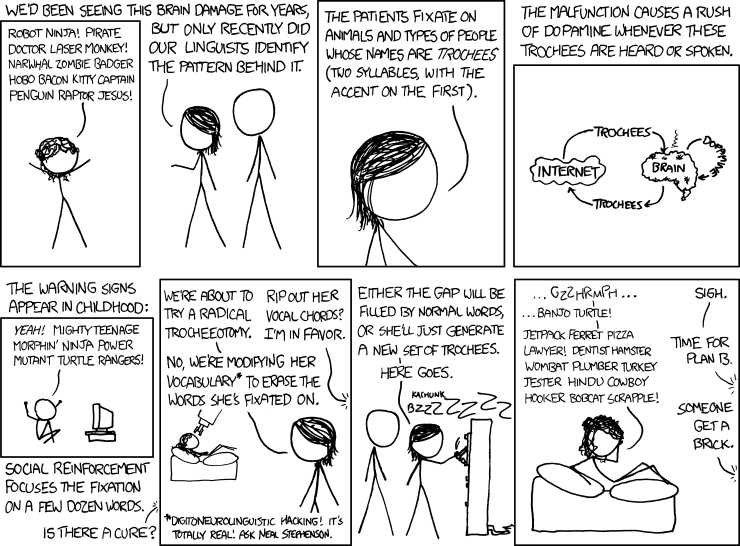 UPDATE #2: DO YOU ALL REALIZE THAT THE PICTURE AT THE TOP OF THIS POST IS A PICTURE OF THE UNIVERSE??? LIKE OUR UNIVERSE, THE ONE WE LIVE IN? THOSE LINES THAT VAGUELY RESEMBLANT A SPIDER'S WEB ARE ACTUALLY GIANT STRUCTURES CALLED FILAMENTS, WHICH ARE MADE OF SUPER-CLUSTERS OF GALAXIES, WHICH ARE MADE OF CLUSTERS OF GALAXIES, WHICH ARE HUNDREDS OF THOUSANDS OF
LIGHT YEARS
ACROSS AND ARE COMPOSED OF
HUNDREDS OF BILLIONS OF STARS EACH
?
EACH?? THE FRIGGIN' UNIVERSE!!!!!!!!!!!!!!!